Melbourne Airport Pickup and Drop-Off
Why spend on expensive taxi rides to or from the airport when you can get there quickly, comfortably, and absolutely free with our complimentary Melbourne Airport shuttle bus. Book an airport parking space with Alpha and we'll take you to and from our depot in an air-conditioned shuttle bus, big enough to fit the whole family and a few friends. Say no to expensive taxi rides and get to the terminal quickly and comfortably while saving money with Alpha's Melbourne Airport pick-up and Tullamarine Airport drop-off.
Airport Taxi Scam Tips
Make sure that there's no red light shining at the tariff at daytime in places like Sydney. If you don't, you may end up paying 20% more for night differential during daytime.
Stick to stubs or vouchers from the airport's prepaid counter. This way you won't need to argue flat fees and metres with cabbies.
Negotiate a price immediately if the driver's metre is broken so you can pay an amount reasonable to you or move on to the next taxi.
Avoid paying with credit cards on taxi rides to avoid credit card fraud.
Book accommodations before your flight. If you've called a hotel beforehand, you won't easily be swayed to go to a "different and better" hotel if your cabbie insists that the hotel you're staying in has "closed down".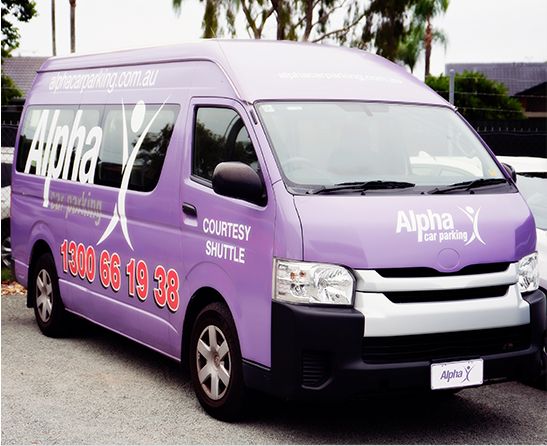 Parking for Your Needs And Budget
Getting parking at Melbourne Airport can be expensive enough as is, so why spend more for a taxi ride. With Alpha, you don't need to spend big bucks to get parking. In fact, you get to save more because our parking costs as little as $7 a day and we even take you to and from the airport for free with our shuttle service. Get to our depot at least 30 minutes before you need to check in the airport and we'll get you there, sorted out, comfortably, and in a jiffy!
Catching your flight is easier with Alpha Airport Parking since our depots are located a few minutes away from the airport. Just make sure you show up at our depot 30 minutes before checking in at the airport. This gives us enough time to sort out the paperwork. Whatever time your flight is, you can conveniently book with us because we open very early in the morning and close very late at night. For our operation hours, take a look at our locations pages.
Brisbane Airport Parking: 4am – 11pm
Melbourne Airport Parking: 5am – 11pm
Gold Coast Airport Parking: 5am – 10pm (Sunday to Monday) 5am – 7pm (Tuesday to Saturday)
Get to the airport safe, comfortable, and for absolutely free with our airport shuttle busses from Alpha. We don't want you to settle for just any car parking so we're offering cheap airport parking with 24 hour security, free airport transfers, and so much more. For easy car storage and a hassle-free holiday, call Alpha Airport Parking today!