Planning for your next big trip can be exciting, especially when we have not been able to travel for so long. However it can also be stressful knowing what to pack or what not to pack and with the Christmas season almost upon us, you need to make sure you're not caught out with banned products or gifts in your bag at the airport.
You probably know you're not allowed to bring more than 100ml of liquid products, weapons of any kind or illegal substances to the airport. However, you may be surprised to know that the below 5 items will get you in trouble if caught with them at the airport:
Art Equipment
Image by www.royalpaintings.com
If you're feeling arty, you can try and take the chance but you're going to have to hope and pray that your supplies get past security. No matter whether they are for you to express yourself or if they are presents for family or friends, more likely than not they will not make it past the first stage of airport security, let alone onto the plane due to the "dangerous" chemicals they are made of.
Cigarette Lighters (Multiple)
Image by iStock
A lighter is an emergency item that most people probably wouldn't think about. However, the official ruling states, "you are not allowed to bring any objects in your hand baggage that could cause injury to yourself and other passengers." With that said, multiple lighters do count as objects that are banned on commercial flights. However the irony is, despite this ruling, you are allowed one lighter through security and onto the aircraft but "you must keep the lighter on your person throughout the flight." So you are allowed to take it through but you cant put it back into your bag after screening.
Peroxide
Image by www.naturallivingideas.com
Even if you have not been on a flight before, you probably know that "Chemicals and Toxic Substances" are on the "JUST DON'T BRING IT" to the airport list. From tear gas to poisons, laboratory specimens, cultures, and organisms, these are substances that could cause significant harm to other passengers and have the potential to create big issues for everyone on board. But not everyone will know that standard peroxide is on the that list of chemicals and toxic substances as well. Peroxide is used for a number of things, including cleaning wounds & bleaching your hair, it is a big part of everyday life but sadly you can't bring any of it onto a commercial flight. So if you're planning on dying your hair, don't do it at the airport, do it at home or when you arrive!
Snow Globes
Image by Google
If you're planning on heading to the cold and pick up a snow globe while you're at it, don't try to take it back in your hand luggage. Airport security will be on the lookout and will confiscate them. But don't panic, they're not harmful so don't throw out the snow globes at home, if you have any! Maybe airlines don't like them in case they break into shards, more likely they don't like them as the liquid inside a snow globe is well over 100ml.
Power Banks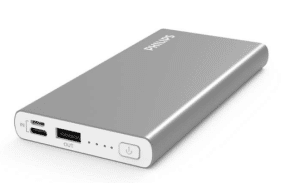 Image by Google
We know how important your mobile devices are to you, especially to help curb the boredom of waiting on a delayed flight! But you should know that mobile power banks or portable battery packs are in the same category as loose batteries and can only be in carry on baggage. If you try and sneak them onto your flight they will be confiscated at security and you will have to buy another one when you arrive at your destination!
All in all, preparation is key to ensure you have a trip with minimal hiccups. Make sure that once you book your flights and accommodation you book your airport car parking, and before you leave just double check your bags for possible any of the banned items above.