Travellers will be divided into two groups: the ones who enjoy packing and making a day out of it and those who dread it because of the anxiety of not doing it right. In this blog, we'll go over some packing tips that are practical and doable, so the next time you go out on holiday, you'll have everything you need without the excess weight.
Here are our recommended practices to include in your packing strategy, as well as travel advice to make getting to your destination easier.
Count the Days
Provided that you're not planning on doing any laundry during your trip, it's best to pack a set of clothes for each day you'll be gone. Count the number of days in your trip, including the day you go home and assign a set of clothes for each specific day. If you have some idea of your trip's itinerary, you can pack accordingly: a formal suit for this day, casual clothes for these days, a bathing suit for certain days and so on and so forth. This will help you avoid overpacking and realising that you've brought more clothes that you'll need or, worse, not packing enough.
This beats randomly picking out clothes you like and just sticking the items in your bag. This disorganised way of packing for a trip is almost sure to leave you with either more clothes than you need, not enough, or no appropriate ones. Think of your days in sets. For example, for Monday, I'll be wearing this shirt, these pants and this underwear and socks. If you organise your clothes by day and what you'll be doing on that certain day, you'll be packing exactly what you need.
If you can afford the space, you can pack an extra set for emergencies, like getting your shirt dirty or your pants torn.
Lay Out Everything First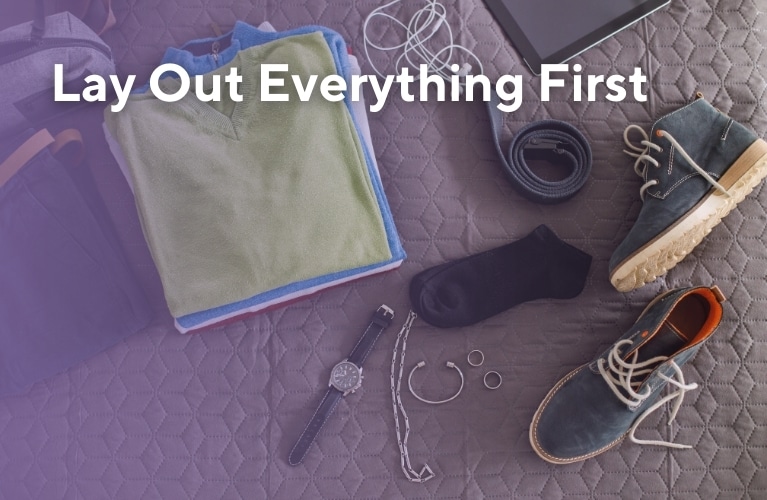 As opposed to directly sticking your clothes in your bag, first, lay them out neatly. This way, you can easily visualise what you'll be bringing and spot missing or excessive pieces. After laying out what you "think you need," viciously go ahead and remove the "just in case" stuff, leaving you only with the items that you really need.
It's best to not rush packing because we can only bring so much with us. It's best to allocate luggage space for non-negotiables, like toiletries and clothes, as opposed to the things you might need, like Bluetooth speakers, an extra pair of runners or a different hat for each day of the week.
Roll your Clothes Instead of Folding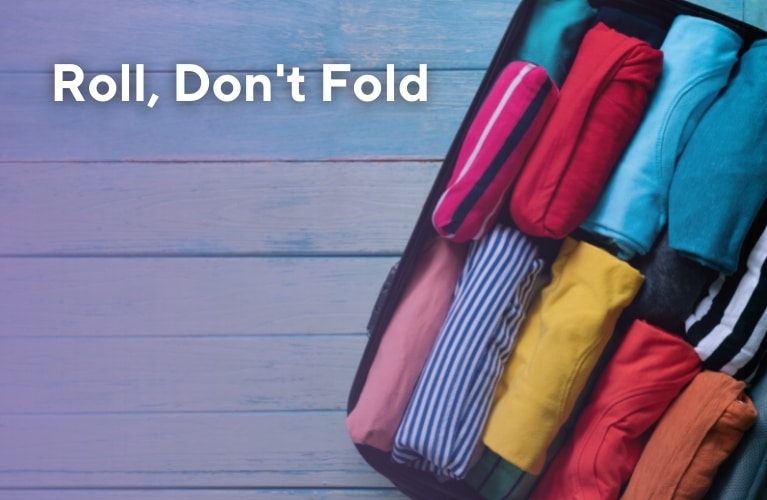 This time-tested packing technique of rolling clothes allows for much tighter packing that saves space and fits more items into your bags. This practice also cuts down on wrinkles and creases, as opposed to stacking folded clothes. Rolling can be used on smaller items, such as shirts, shorts, socks and pants.
Another variation of this technique is bundle wrapping. This involves rolling together multiple items of clothing into a single roll and packing them as a single snug bundle. The trick is to use the least-wrinkly clothes in the centre and working your way out with the more sensitive fabrics.
Repack your Toiletries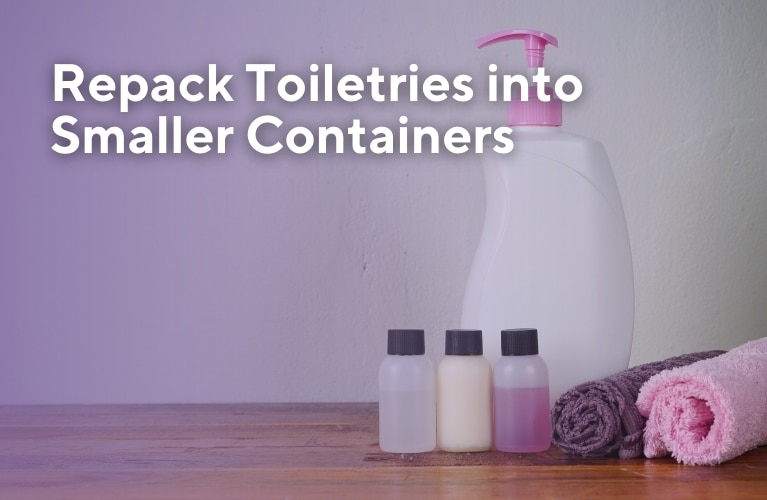 Instead of lugging around big bottles of shampoo, conditioner, and body wash, you will save more space by getting smaller, travel size bottles and filling them up with what you need. And if you're not too picky, you can go ahead and just use what your hotel room has. You can even use the rolling technique and wrap your bath towels around the bottles. In case they spring a leak, your towel will catch all the liquids before they can get to your clothes. Another option to secure the liquids is to put them in resealable plastic bags.
If you're flying to your destination, it would be a good idea to place the toiletries bag within easy access, so you can quickly get them out if ever airport security needs to do a visual inspection.
The same goes for your vitamins and meds. Count the number of days you'll be gone and use a pillbox instead of taking the entire bottle with you.
Quick Tips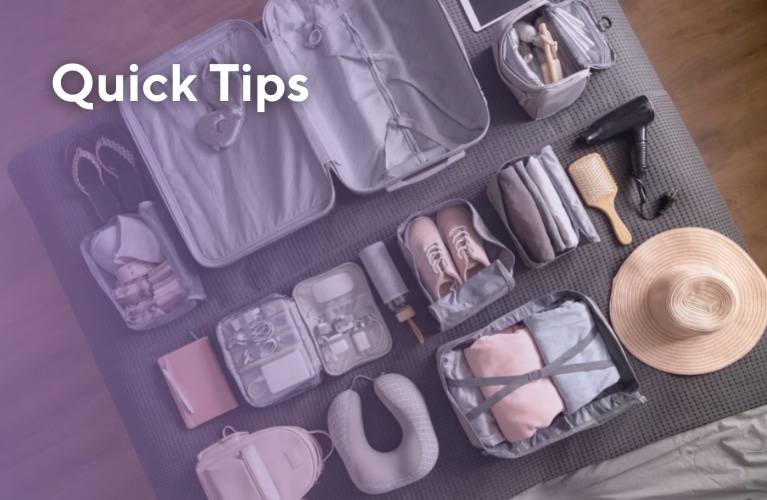 Decide on which clothes you'll be wearing on your way home, and you can pack them in the deepest part of your suitcase.
Put the first set of clothes you'll be wearing on the top of the pack.
Stuff your socks in your shoes. You get to make use of the space inside, and your shoes get to retain their shape.
Heavier items go on the bottom. This helps suitcases stay upright, and walking with a backpack becomes easier this way.
Bring an extra bag for souvenirs.
Bring plastic bags in case you'll be packing wet items the day you head home.
Bring a reusable water bottle in your carry-on bag.
Unroll your clothes as soon as you get settled in your accommodation.
Ensure easy access to essentials: meds, chargers, toilet paper, sanitiser, etc.
Postpone wrapping gifts because airport security might have them unwrapped.
Airport Parking
If you need a safe and secure place to leave your car, Alpha Airport Parking has depots in Brisbane, Melbourne and the Gold Coast. We'll take good care of your vehicle while you're away and shuttle you to your terminal for free. Visit our website to book your reservation today.
Editor's Note: This post was originally published in 2018 and has been updated for freshness, accuracy and comprehensiveness.